Project
Premier Northern Nevada Casino Guestroom Renovaton
TIMEFRAME: 7/2010-10/2010
PROJECT SCOPE: 398 Guestrooms
PRODUCTS: Surface stone, draperies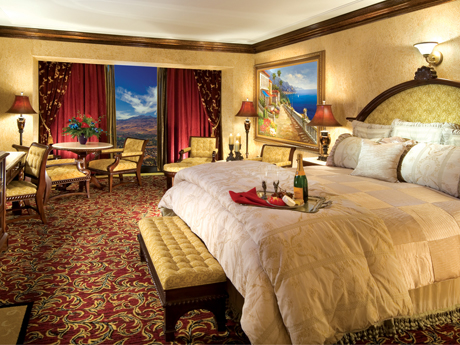 In 2010, a premier casino in Reno, Nevada launched a renovation project of its 17-floor tower. INT Sourcing was chosen to be the designated supplier of many interior finishes as well as surface stone and draperies.
Throughout the project, INT Sourcing closely collaborated with the architects and general contractors, analyzing the material requirements, quality standards and project scheduling to meet the project fulfillment plan. In order to rise to the owner's supreme quality expectations, INT Sourcing recommended Brazilian Paradise Gold, Black Galaxy and Italian Calcutta Gold as the main stone sources. It came from the same supplier that manufactured floor tiles and granite countertops for Wynn Las Vegas; and the same affiliated supplier that manufactured draperies for Hyatt Regency and Four Seasons Hotel.
Because the hotel needed to remain open during the renovation, the project was divided into five phases. INT Sourcing worked diligently on the production and transportation, and secured just in time delivery, including an expedited delivery schedule for some products.
To best meet the customer's need for material planning and low costs for storage and transportation, we pre-gathered all materials at an overseas facility and grouped the materials on a per room basis. This upfront planning made it very easy for the contractor to take delivery and install the products with maximum efficiency. INT Sourcing's vision brought much appreciated added value to the client. We gladly fulfilled the commitment without delay, damage or any rework.