Project
Tropical Resort Style Condo Village in Arizona
TIMEFRAME: 3/2010-6/2010
PROJECT SCOPE: 82 Condo Units
PRODUCTS: Cabinetry, surface stone, sanitary ware, finished carpentry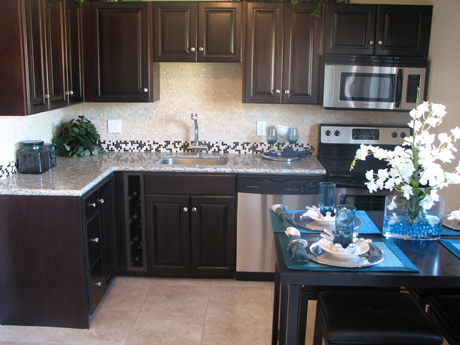 INT Sourcing was awarded the FFE supplier contract for the new construction of an 82 unit tropical resort style condo estate in the Phoenix metropolitan area. Products included kitchen cabinets and bathroom vanities, granite countertops and vanity tops, interior and exterior doors, moldings and casings, faucets and sinks for kitchen and bathrooms, and toilets and tubs. The project required a shorter than normal delivery time, but we gladly committed to an on time delivery.
Due to the limited time frame, INT Sourcing chose partner factories that have proven track records with heightened productivity as well as an understanding of our procedure to fulfill material requests. The casework supplier for this project specialized in multi unit kitchen cabinet production. We also chose the OEM supplier of ToTo and American Standard, and a steadfast, 50-year-old door factory. To ensure the quality and delivery time, INT Sourcing had our senior manager meet with the chosen suppliers, and secured promises of priority positioning.
Because the Phoenix area is a fair distance from the ocean port, higher inland transportation costs seemed eminent. In order to save the customer money on freight costs, INT Sourcing specially designed the container loading plan to combine the heavy but small stone materials and the large but light cabinets in the same containers, and we were able to reduce the overall transportation cost by 14 percent.
After the entire cabinetry order was delivered, the client requested an additional 82 units of wine cabinets. The materials were put into production the very same day the order was received, and the wine cabinets were delivered to the jobsite within 4 weeks. We made a lot of people happy throughout the course of this project, which in turn makes us happy.